Willy's Web Page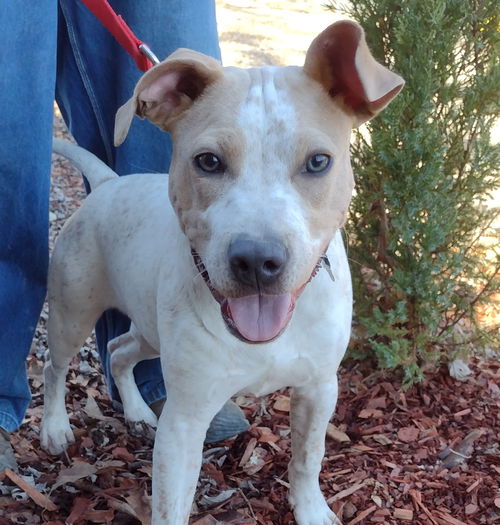 Won't you think about adopting me?
Willy
Name: Willy
Rescue ID: Gails Pets
Species: Dog
Breed: American Pit Bull Terrier / Labrador Retriever / Mixed (short coat)
Learn more about the American Pit Bull Terrier.
Learn more about the Labrador Retriever.
Pattern: Spots
Sex: Male (neutered)
General Potential Size: Medium
Current Age: 11 Months (best estimate)
Activity Level: Highly Active
Indoor or Outdoor: Outdoor Only
Good with Dogs: Yes
Good with Cats: No
Good with Kids: Yes
Housetrained: No
Description:
My neighbor packed up one day and left. Two dogs were running the neighborhood that he had abandon. They were half starved and one was pregnant. I had nowhere to keep them so I grabbed a bag of dog food and took them back to the neighbors put them in the back yard. I had been taking care of them for two day before I heard the crying in the house. I couldnt get in the house, called the landlord. The next day is when I met Willy. He came flying out of that house skin and bones. He wanted water first then he started eating. I had never seen a little dog that thin. It was a slow recovery but he the vet says he is healthy and strong. He is a very kind dog, loves to play, and alway has a smile on his face. I believe that he does not have a mean bone in hiis body. great around kids.
We've been receiving more inquiries then ever before and it is taking me longer then normal to respond to them. Please understand that we are a volunteer organization. It may take a day or two to respond to your questions, so please be patient with us.
251ms